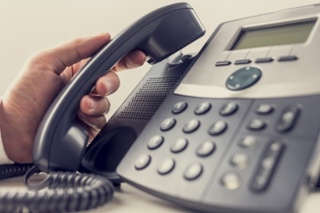 When it comes to choosing new small business telecommunication systems, many owners are overwhelmed by the amount of product and services in the industry today. The idea of a simple one-size-fits-all system is no longer the answer. Instead, systems have grown more complicated and require a little bit more planning before you buy. Here are some of the most important questions you should be asking before you sign a contract.
What Does Down Time Cost You? - Too often business owners see the price tag of a new business telecommunication system and lament that it costs more than their previous system did. They seem to forget that the old system let them down, and often disrupted business altogether. When you're assessing a new system, make sure you take into account the cost of lost business due to outages to put things into perspective.
What is the Cost of Buying the Wrong Thing? - Small business owners are often faced with a limited budget. The tendency is to buy the cheapest, simplest phone system they can find and hope it works. Unfortunately, if it doesn't work you may be locked into a contract. In addition, once you've realized your mistake it could take 30-45 days to transfer your service to another new provider. In the mean time, you are left with a dysfunctional system and unhappy customers. Sometimes the problem is not that the equipment is wrong, but that you receive no support from the company on the other end. When you buy the cheapest systems, you are often left without any guidance or customer service support from the manufacturer, so your internal IT team is responsible for all implementation and troubleshooting. Unfortunately, you don't usually find out how little support you have until you're already in trouble.
Which Function is Most Important? - Business telecommunication systems cover more than just your phones. Your internet, fax, mobile devices and more are all a part of your total communications strategy. If you do have a limited budget, make sure you put emphasis on the functions that are most important to your daily operations. Spend more on the things that matter most, and save money on the things that are merely convenient. Make sure your communications provider understands which function is most important so they can build your system accordingly.
What is the Real Cost of a Consultant? - One major fallacy of the business telecommunication industry is that a consultant will cost you a fortune, or that your small business doesn't need a consultant. In reality, consultants are often paid representatives that offer a wide variety of products, and they have the ability to build a custom system from the ground up to meet your needs. They are paid by the companies they represent, not by you. Having a consultant on board for the project means that they can point you in the direction of the right equipment the first time, eliminating waste and heartbreak caused by buying the wrong thing on your own. Even if you pay a little bit more up front for the consultant, you are likely to get a more reliable system that repays itself long term.
Budget is the single most important factor for small businesses shopping for new business telecommunication systems. The good news is that there are consultants out there who can build you a custom communications system while being sensitive the precise needs and functions of your organization. Before you shy away from the idea of hiring a consultant, call a professional company and ask how their consultants can save you money.