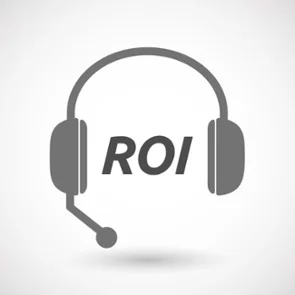 When it comes to office phone systems, there are several important ways for you to measure your return on investment. You can start by breaking your ROI down into two categories:
internal
and
external
. This will allow you to add up the gains that you see for both your employees and your customers.
INTERNAL ROI
New office phone systems can cost thousands of dollars to roll out effectively, and there are ongoing maintenance and service fees to be accounted for. However, you may find that the latest technology allows you to immediately streamline your call routing systems, eliminating the need for multiple receptionists answering phones. It is possible that a new phone system could save you $20-30,000 a year in salaries for employees that are no longer needed.
On the other hand, by improving the efficiency of your routing system and offering other avenues of customer service like chat support, you may also be able to multiply the amount of work that each individual is capable of doing in a single shift. If customer service reps can answer three times as many calls each hour, you will see immediate boosts in your sales figures, but you may also be able to trim down your labor.
EXTERNAL ROI
Now it's time to look at ROI in terms of what your customers can give you. Studies have repeatedly shown that improved customer service experiences translate to more repeat customers and larger transactions per customer. Better customer service also leads to referrals, which can help expand your customer base. If your company has fallen behind in terms of providing multi-channel customer support, you may find that bringing your office phone systems up to speed provides an instantaneous return in your monthly revenue. The key is alerting customers that they now have more options for resolving their problems and making sure that you can provide adequate service across all forms of communication.
Office phone systems open up a whole world of possibilities for return on investment. You simply need to evaluate how a new phone system will change the way your day-to-day tasks are handled by speeding them up and eliminating extra steps. Furthermore, once customers know they can easily access their accounts via chat support and other methods, you can expect to see a shift in the way you interact with customers and a huge improvement in the way they view your service as convenient and easy to use. This leads to higher ratings and more sales down the road.